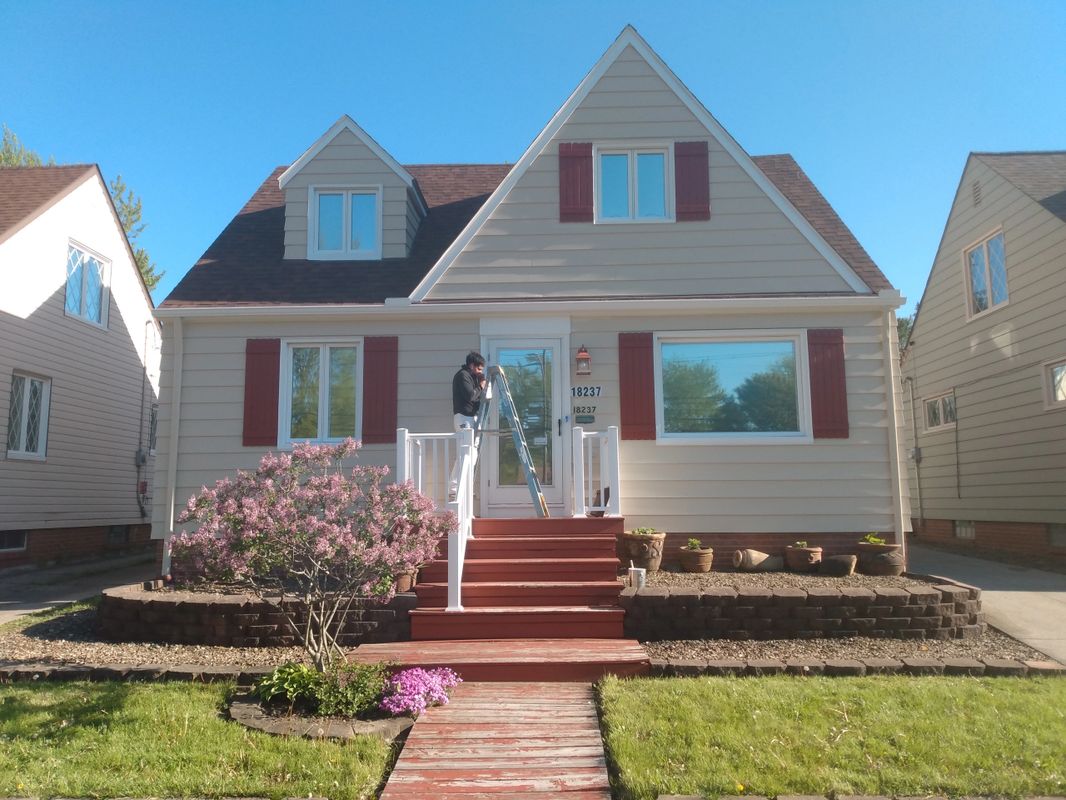 Aluminum Siding Painting: Exterior Painters in N. Olmsted
The painting professionals at Cleveland Custom Coatings out of Westlake gave these new homeowners a fresh feel with new interior paint on all the wooden doors and trim, as well as throughout the house.  Whether you're selling your home or just bought a home, a new coating of paint can make the house feel new again. These homeowners in Westlake had new paint on all their walls, ceilings, doors and trim. Once they moved in their belongings, the home felt like new construction with no sign of the previous owners.
Exterior Painting: Aluminum Siding, Vinyl Siding and Clapboard
N. Olmsted Exterior Painters: Aluminum Siding Painting
When you're choosing a painter for your Westlake home, consider getting a free estimate from the residential painters at Cleveland Custom Coatings. With a rich background in commercial painting our professional painters know which paint and coatings are right for the job. For example, when choosing the right paint for a wooden door, trim, window sills or wood paneling you want a paint that possesses qualities of maximum adhesion while being able to wash well.  Many doors, cabinets, trim, window sills and wood paneling will gather dust or dirt and grime and require frequent cleaning.  The wrong choice in paint will reveal itself as the paint wears off with cleanings.
Choosing Cleveland Custom Coatings ensures the right advice in paint and coatings choices to make your investment in the interior painting project will last.  Contact us for a free quote.
Free Estimate: Aluminum Siding Painting
Get a free estimate for your Westlake interior painting project from Cleveland Custom Coatings. Call our Westlake office at 216-372-4700 or fill out this contact us form on the page.  We'll receive your form by email and contact you within 1 business day.
Cleveland Custom Coatings provides residential and commercial painting services throughout the greater Cleveland area. Most our residential house painting jobs are on the west side of Cleveland, in Westlake, North Olmsted, Olmsted Falls, Berea, Bay Village, Rocky River and Avon and Avon Lake neighborhoods. However, if you're in the Greater Cleveland area, reach out with a quote request and we may have a painting crew in your neighborhood to schedule the job.
Aluminum Siding Painting in N. Olmsted