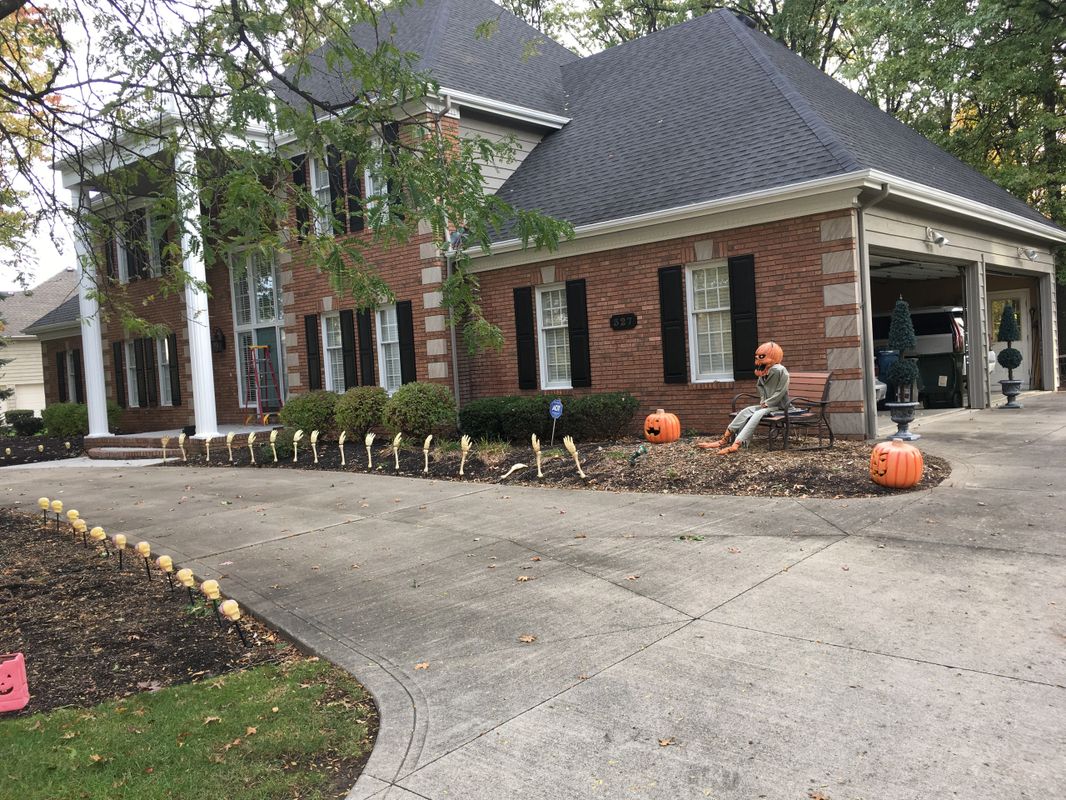 Avon Lake Exterior Painting: Shutters, Columns and Grand Entrance
This beautiful Avon Lake exterior had suffered from a decade of our Cleveland area winters, rain and harsh conditions. The shutters, trim, columns and other surfaces around the entrance just felt worn-out and tired to these home owners. After consulting with the team at Cleveland Custom Coatings we decided that a quality coating of paint over the shutters, columns and entry way would give the home's exterior some new life. Although it isn't seen in this picture, a pressure washing of the front driveway also added tremendously to the curb appeal.
So whether you're looking to sell your home and want to give it an inexpensive but powerful face-lift, or you want to enjoy that new feeling for yourself, call the team at Cleveland Custom Coatings and we can come up with ideas for how some exterior painting projects and possible pressure washing will breathe new life into your home.
Exterior Painting: Aluminum Siding, Vinyl Siding and Clapboard
Avon Lake Exterior Painters:
When you're choosing an interior or exterior painter for your Avon Lake home (or North Olmsted, Westlake or any of the suburbs on the west side) get a free estimate from the residential painters at Cleveland Custom Coatings. With a rich background in commercial painting our professional painters are more experienced and knowledgeable than most run-of-the-mill painting companies. As commercial painting contractors we deal with thousands of coatings - from coatings on ductwork and ceilings to industrial equipment and large buildings. Because of this experience we know which paint and coatings are right for the job.
For example, usually you've likely heard of the downsides to painting vinyl siding (usually from contractors that would prefer you buy new siding), and maybe seen some botched jobs from local painters that didn't use the right product, but at Cleveland Custom Coatings we specialize in pairing the job with the right product. So whether you're painting vinyl siding, aluminum siding, stucco, or some good old-fashioned wooden clapboard our crew knows which coating will best match your project, budget and timeline to get you the results you want.
Choosing Cleveland Custom Coatings ensures the right advice in paint and coatings choices to make your investment in an exterior painting project last. Contact us for a free quote.
Free Estimate: Exterior Painting
Get a free estimate for your Avon Lake exterior painting project from Cleveland Custom Coatings. Call our Westlake office at 216-372-4700 or fill out this contact us form on the page. We'll receive your form by email and contact you within 1 business day.
Cleveland Custom Coatings provides residential and commercial painting services throughout the greater Cleveland area. Most our residential house painting jobs are on the west side of Cleveland, in Westlake, North Olmsted, Olmsted Falls, Berea, Bay Village, Rocky River and Avon and Avon Lake neighborhoods. However, if you're in the Greater Cleveland area, reach out with a quote request and we may have a painting crew in your neighborhood to schedule the job.
Avon Lake Exterior Painting Project